Case study: TOF Paris, the packaging that gives value to the brand
TOF, a company born from a vision
The story of this great French company has fascinated us immediately during our first meeting at the fair Interfilière Paris 2017, where we have shown different packaging types for underwear. TOF Paris is the result of Sylvain vision, a young man coming from Cameroon: after having obtained a PhD in law in his country of origin, he decided to move to Paris with the desire to fulfill his dream and become a fashion designer. Thanks to his extraordinary determination and years of study as fashion designer, in 2015 Sylvain created his first collection. It was immediately a well-deserved success in France and then all over the world.
A brand for the modern man
The brand is inspired by an opened policy based on the respect for human beings whatever colour, race or sexual orientation they have. Quality is company's strength: every clothing type, from beachwear to trousers and briefs, is hand made with premium fabrics. There's a real attention to details, including the packaging that must be developed in order to evaluate the sartorial features of TOF products.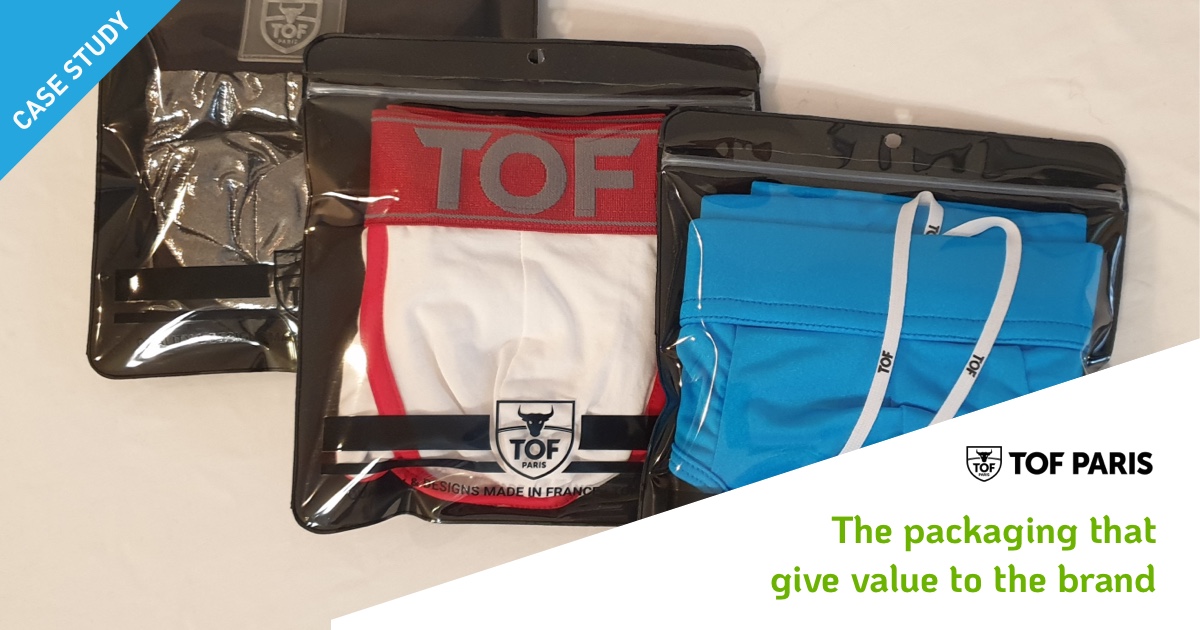 The packaging that gives value to the brand
Our collaboration has started and then was confirmed with the production of transparent hanger bags until September 2020, when TOF asked us to develop and study an alternative to these bags. We began to work with enthusiasm and thanks to continuous interactions, we have developed a tailored packaging with two combined materials: a transparent solution for the front side of the bag and a black material for the back side. The transparent material permits to see the product inside the bag, whereas the black one enhances its characteristics and features. The finishing touch, which gives elegance and value to the brand, is the black printing on the transparent material. According to TOF request, the bag has also an air hole and a hole above the grip seal, which gives a minimal touch to the displayed packaging and protects also briefs during their display. And here we have a tailored packaging that has completely satisfied the client: TOF has already ordered the bags twice and it has decided to use them for other articles in 2021.