Case study – Le Hat fashion packaging
The first meeting
We got in touch with Le Hat, a renowned British company of hats, in Paris in February 2020 while we were participating as exhibitors at the international fair Première Vision. The project of developing a tailored bag for their trendy hats has enthused us imme- diately. Le Hat has been looking for a long time for a packaging that could highlight the quality of their hats and that could reflect their well-known image in the Luxury boutique sector.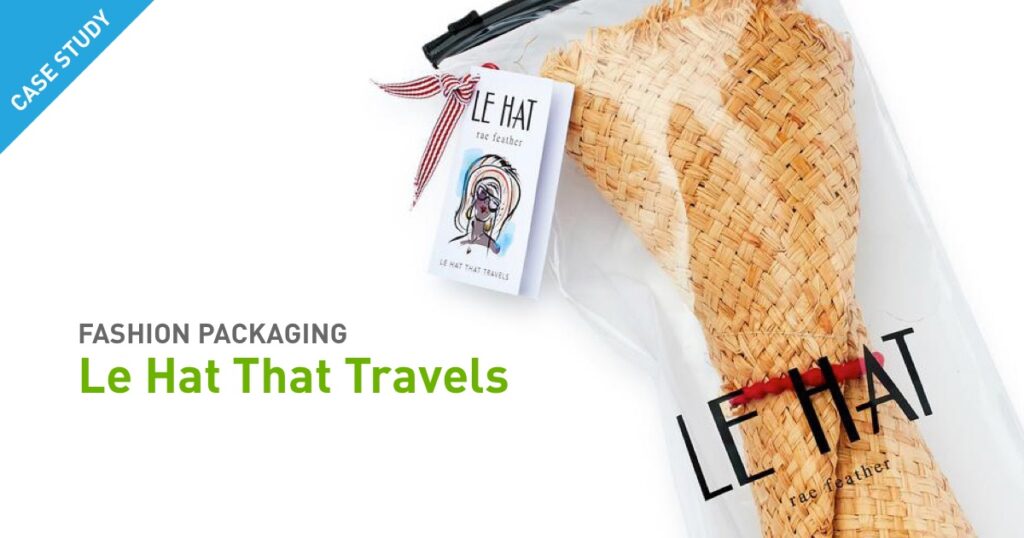 Company policy is the company image for the consumer
The client needed an elegant, original and practical packaging that could reveal the company policy: the development of sustainable solutions should be a driving force of the progress in the artisan and industrial world of the third millennium. Le Hat's products are produced with natural fibres like raffia or papier and the project must involve the production of a green or at least 100% recyclable packaging characterized by high levels of durability and strength. In addition, the bag must be reused by the consumer different times for putting back the hat in the packaging, also during travels.
From the inventive project to its realization
A reusable packaging was one of the core elements of this packaging project: the hat is rolled and put back in the bag by the consumer in order to reuse it everywhere. And here we have the solution! When we meet a new client with a demanding and inspiring project, our creativity and imagination combined with our experience start to work and develop the packaging design. We have decided to use PP-ECO, one of our latest degradable materials. Thanks to its quality, durability and strength, it is comparable to the plastic normally used for this packaging type. We have also chosen to print the bag on two sides indicating that the packaging is degradable because the consumer has to know the sustainable policy of Le Hat. The printing and the slider would be both black. In the end, we have realized as usual the sampling. In this way, Le Hat could test the sample with its product and see the effect of the printing with the hat inside the bag. After some tests, Le Hat has approved our work and has ordered the bags.
Voila! Job done.
We have developed an elegant, practical and degradable packaging reflecting the image that Le Hat loves to give to its clients.