Case study Do-Paris: slider bag
DO Paris, always up to date with the latest fashion trends
It's many years that Legoplast produces packaging for beachwear. We have built extremely productive and satisfying collaborations with important worldwide brands and we like to consider ourselves dependable and creative partners. We have contributed to improve the image of companies that have been successful not only in fashion but also in an exclusive and competitive sector like the beachwear one.
Right packaging at the right moment
Mare di Moda is one of the most important fairs for the presentation of new fabrics, accessories and packaging collections for beachwear, underwear and athleisure sectors. During the fair in November 2021, we got tangible feedback on our quality work: we got in touch with the French company DO Paris. Its team of experts had already seen our products and it had consequently clear ideas on how to launch a customized packaging for summer 2022 collection. In addition, we were really satisfied by the opportunity to work under the direction of Dorothée Goroneskoul, a sophisticated stylist who has studied in Paris. In 2019, she launched the beachwear collection Dorothée, which received praise from both press and customers looking for excellence.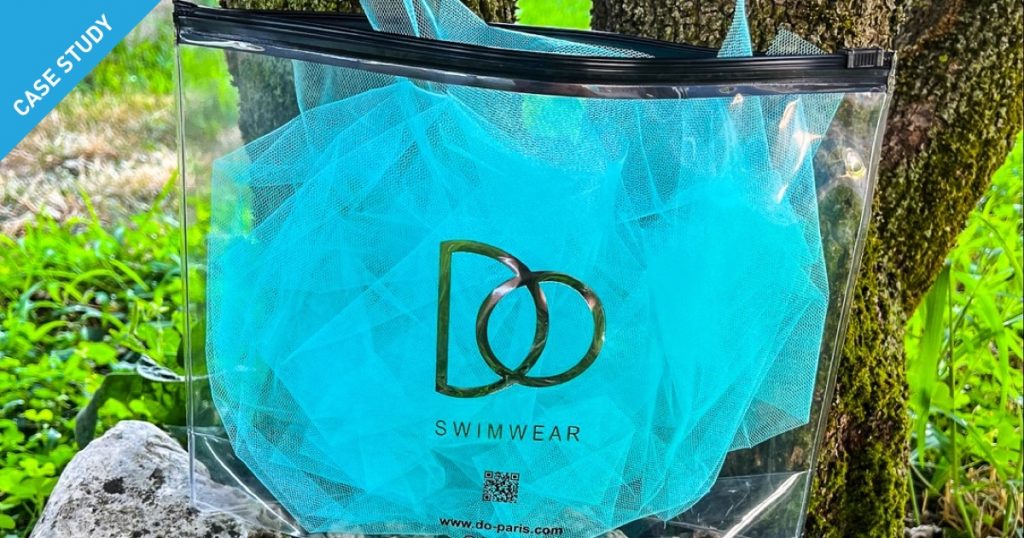 The final touch
The grand French company team was looking for a slider bag. Some samples have been seen during the fair and after some days, we have received the logo: the team has asked for a 2-colour-printing on one side of the bag. Silver has been chosen for highlighting the brand; we have consequently decided to make a silver foil printing for the logo, and a black serigraphic printing for the rest of the design that could match the black slider. In this case, it wasn't necessary to send a sampling: the final result was polished and it matched perfectly the client's needs. It was the fruit of a shared vision and mutual appreciation that stimulated us in the research of latest innovative solutions for fashion.