The turning point for a sustainable future - Biodegradable Compostable vs Bio-based materials
The environmental issue is nowadays integrated in the policy of many companies: anybody cannot exempt from reducing the environmental impact due to its own industrial activities. The safeguard of ecosystem and territory where we live has become a collective responsibility; companies has more or less understood the need to face this topic and to adopt new production strategies in order to reduce drastically the impact on the world they want to leave to future generations. Plastic is certainly one of the most controversial topics that has raised a crucial issue in the packaging world: this material comes from non-renewable fossil fuels like oil or natural gas, and it takes millenniums to degrade in the environment.
The result is a real revolution, which, after an early stage of deep perturbation, has opened the way for exceptional changes and renewal aimed at searching and developing new green and sustainable materials, e.g. degradable and compostable plastics.
The so-called green plastic is powerfully gaining ground in all sectors, from fashion to food, from stationery to large-scale distribution, where new packagings (bags and shopping bags) continue to be introduced. The packaging is produced with biodegradable, bio-based and degradable plastics that maintain the same physical characteristics of classic polymers in terms of strength, flexibility and durability. All these materials guarantee high quality standards and they protect the product inside the bag like classic plastic materials. Let's cast new light on some definitions that could be vague for non-experts because biodegradable and compostable plastic isn't synonym of degradable plastic.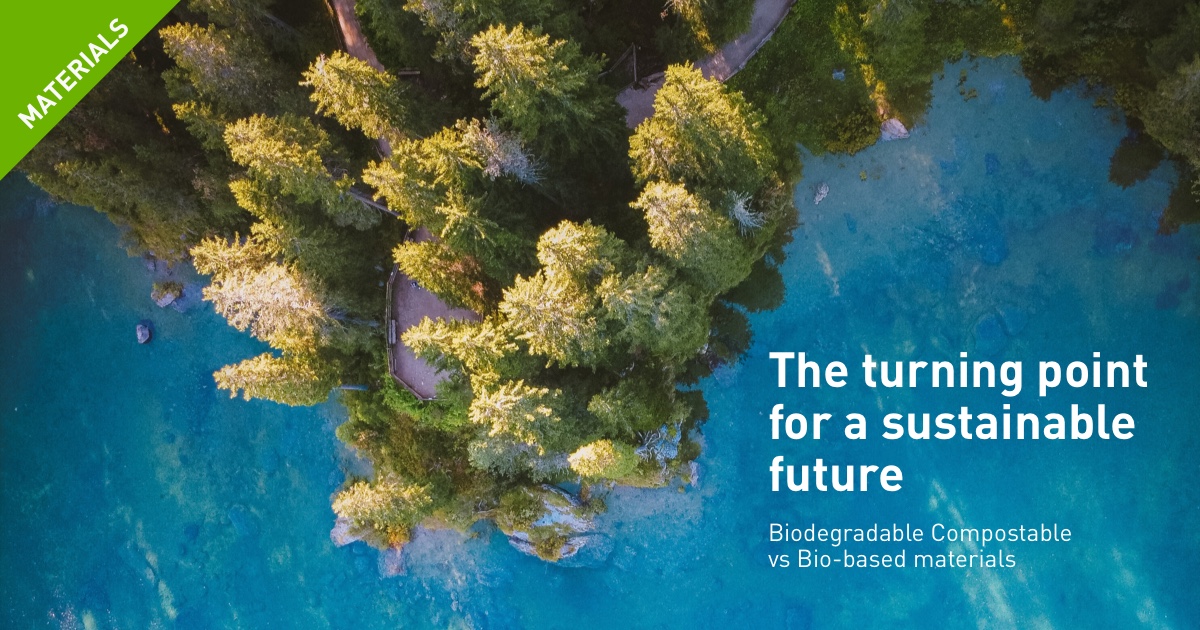 Difference between biodegradable compostable and degradable
Bioplastic is a generic definition used for various polymer types that derive from renewable sources (biomass) or other plastic materials in different percentages. The polymers produced with biomass are basically divided in biodegradable compostable materials, which degrade naturally in the environment until they become compost, and in bio-based materials, e.g. biomass-based, which can be either biodegradable and compostable or only recyclable according to their composition.
In addition, there is a third category of degradable plastics: they are produced with classic polymers like PE or PP and with special additives that accelerate the degradation process by reducing the decomposition timing.
Legoplast uses for example degradable plastics PP-ECO and PE-ECO and bio-based compostable materials. Let's analyse them in detail.
PP-ECO and PE-ECO, degradable polypropylene and polyethylene
These degradable materials derive from a mixture of polypropylene or polyethylene and substances that start the degradation process only in active microbial environments. Therefore, the materials can be easily stocked in warehouses, offices and shops. Once they are disposed of, the decomposing microorganisms are attracted to the plastic material, they colonise it and they secret acids to break down the polymer chain by using its carbon backbone as an energy source. In this way, the microorganisms reduce the material in smaller parts, which can be easily decomposed. In the last stage of decomposition, acetates are converted into methane and carbon dioxide, and hydrogen is consumed until the only remaining element is humus. This highly nutritional element creates and improves the environment for microbes, and it enhances the final stage of decomposition.
Bio-based compostable materials
All our compostable materials comply with UNI EN 13432 law that establishes the European requirements to identify these material types. In order to be defined as compostable and biodegradable, the materials must satisfy specific standards according to the speed of composting process, which is identified by some parameters like temperature, humidity, oxygen presence, quantity and type of compostable material. This law illustrates the characteristics of a compostable material: if it comes into contact with organic materials for three months, its mass must have at least 90% of fragments with a size inferior to 2 mm; if the material is put in an environment that is rich in carbon dioxide, the degradation must occur at least 90% of the material in 6 months; there mustn't be negative effects on the composting process; the material must have a low concentration of heavy metals with additives, and it must respect the values established by the law for pH levels, salt content, and concentration of volatile solids, nitrogen, phosphorus, magnesium and potassium.