Case study – Style in a bag – Nina27
We first met Nina27 in 2019 during the fair Mare di Moda Cannes. It was a meeting between two dynamic companies. Even though they work in the same country, they both work in international fields and they have indeed chosen to join forces in finding creative solutions in their sectors by offering "Made in Italy" products.
Nina 27 is an emerging beachwear brand founded by a young woman determined to make her own passion for beautiful things her main strength: she can create unique items by searching new patterns characterized by original cuts and trends, which are far away from usual stereotypes. It is a young and refined fashion, suitable for every woman who is looking for elegance, quality and attention to details.
An original solution needs a creative vision
The project consisted in the realization of an alternative packaging for beachwear that could match the fresh and versatile style of the new summer collection 2021. We understood each other immediately because the company had clearly in mind the message and image to communicate. In addition, some of our packaging solutions showed at the fair caught client's attention, in particular a fuchsia-printed sewed bag produced with black polyester, fuchsia zipper and zipper puller.
After having sent an offer and having analyzed all details, we have sent some customized samples with a black zipper. When the client has seen the product, which was matched with new collection's creativity and fantasy, the company has decided to make the printing colour brighter in order to show the printing up on the black background.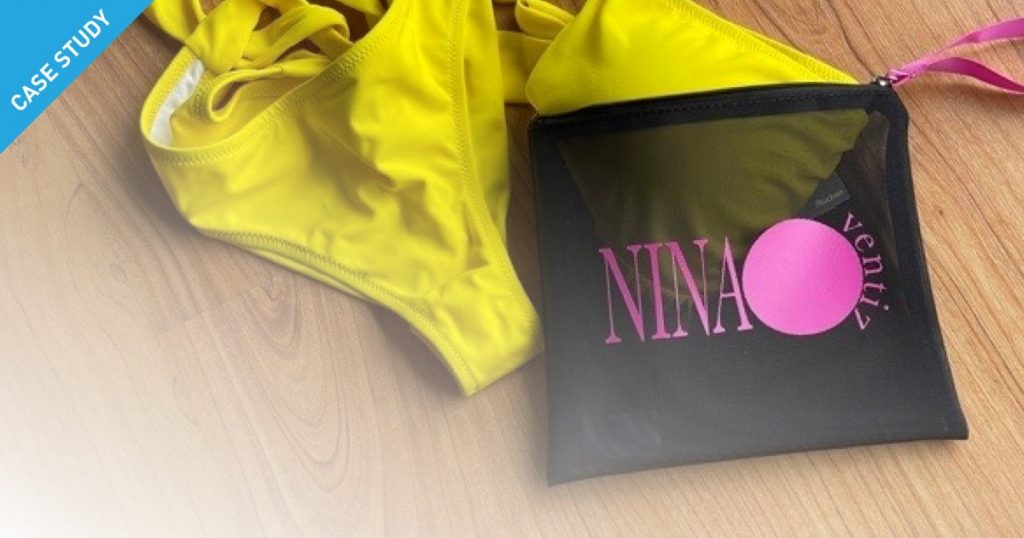 An alternative to the classic beachwear packaging
The result was marvelous because the new sample has met perfectly the company taste, and in January, we have received the first order. According to client request, the shipment has been arranged in boxes made of 20 packets in order to pack the product in an easier way. Once again, the satisfaction has been more than expected because we have been able to produce an original and elegant bag, which can be reused any time. In this way, the packaging life has been extended and the bag has given an added value to the brand Nina 27.